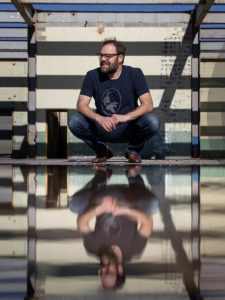 Josh Daniel has just joined the Intrepid family!
For working musician, Josh Daniel, the year 2020 looked to be the most promising to date. With a calendar full of festivals, club shows, and a few brewery gigs, he was booked solid playing the music he loves. When the Covid19 pandemic hit in March of 2020, music venues shut their doors, and his calendar was wiped clean. The singer-songwriter took to his Facebook page and pledged to his fans to play live on Facebook every day until the pandemic ended.
Day in and day out, Daniel showed up on the screen to offer respite from the deluge of grim news, often with his wife, Kellie, and two young children, Maddie and Sonny, going about their daily lives in the background – a scene most of us can now relate to.
By the time Daniel approached 300 consecutive, live shows, he had earned Pollstar's #8 live-streaming artist of the year, garnered a call from Kelly Clarkson with an invitation to appear on her show, and drew the attention of The New York Times. Playing music every day has solidified Daniel's performance chops and increased his live performance catalog tenfold, including the release of his single entitled, "Live Long Days."
When you don't see him streaming live, he's busy writing new material, releasing new music, and planning his upcoming Fern Club campaign.