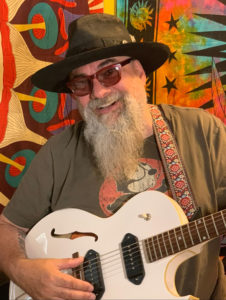 Intrepid Artists is excited to welcome late night Television Musical Icon/Musical Director and Band leader for The Conan O'Brien Show and The Tonight Show for over two and a half decades Mr. Jimmy Vivino aka Jimmy V.
While Jimmy has always considered himself "a blues man with a job" he is probably best known for serving 26 years as Conan O'Brien's musical director, guitarist, and bandleader while his experience in the music business predates that by 20-plus years.
Jimmy V has produced bands, led bands, and recorded with a countless number of rock and roll and blues artists for five decades including the likes of Hubert Sumlin, Warren Haynes, Bob Weir, Keith Richards, Elvis Costello, Johnnie Johnson, Son Seals, Shemekia Copeland, Lil' Ed Williams, Levon Helm, Phoebe Snow, Dion, Laura Nyro, Bob Margolin, Lowell Fulson, John Sebastian, Joe Louis Walker, and Al Kooper to name a few. When not producing, recording, or touring with other artists Jimmy still tours the country and the world with his own band and is due to release a new blues album later on this year (2022).
Jimmy is currently touring as a 4-piece band; however, he can be packaged as a solo, duo, 4-piece, and up to a 7-piece band.