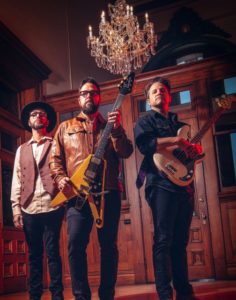 For the past ten years, The Cold Stares have toured the world relentlessly as a duo, blowing away audiences across the US and Europe with a fierce, blistering live show that belied their bare bones, guitar-and-drums setup. Now, the band is embracing a whole new kind of chemistry as they launch their next chapter, adding a third member and channeling the classic power trio sound they grew up on with their explosive new album, Voices that is currently garnishing RAVE Reviews.
Voices released on the Mascot Records Label is filled with new, cutting edge, explosive Rock 'n Roll dripping with Hot distorted Blues licks. Self-produced by the band and recorded almost entirely over the course of just two days with engineer Mark Needham (Taj Mahal, The Killers, Imagine Dragons, Walk the Moon, Fleetwood Mac), Voices stands as the Band's most mature, eclectic collection yet, balancing gritty muscle and tender emotion in equal measure.
Over the past few years, the band has toured with the likes of Larkin Poe, Rival Sons, Thievery Corporation, Grand Funk Railroad,Reignwolf, Spoon and more! After an extensive tour of Europe this summer, they will be back to tour in the US for the remainder of 2023 and already accepting 2024 festival plays and touring possibilities.
Check these guys out. This ain't yo' Mama's Blues!!! Crank it up!!!