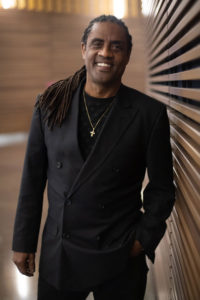 Kenny and his brothers, Fred and Darnell have always been considered family to us and after a brief hiatus, we're really excited to put them back on the road.
Kenny Neal is truly, The Real Deal when it comes to blues and roots music. He's a second generation Bluesman and one of the strongest modern proponents of Louisiana Swamp Blues! Kenny, the eldest of 6 brothers and 3 sisters, was born October 14, 1957 to Raful and Shirley Neal. His Dad, a harmonica player ran with and played with Buddy Guy and Slim Harpo. Slim gave Kenny his first harmonica at age 3 and at age 13 Kenny started playing in his Dad's band. At age 17 Kenny was recruited by no other than Buddy Guy to play bass in his band. He is more than cognizant of Louisiana's strong history of Blues but he is imaginative enough to take those traditions, combine them with a contemporary sound and steer the genre into the future.
Kenny's latest release, Straight from The Heart came out in May of 2022 on the Ruf Label and includes collaborations with Grammy Winner, Christone "Kingfish" Ingram, Tito Jackson and Rockin' Dopsie. Neal used this record to rewind his music to the his earliest days and pay homage to the songs and music he heard played on his family's phonograph. When listening to it, you can tell how much fun Kenny and his band are having and how each song makes you feel like you are right there with them in Baton Rouge. Laissez les bons temps rouler!
Since the Pandemic hit in 2020, Kenny came off the road and chose to spend most of his time on his ranch with family and friends in Baton Rouge. That was then, This is NOW. Kenny Neal and his Big 7 Piece Band are Better than Ever and ready to hit the road again in 2023. They were the band EVERYONE was left talking about after their performance at the 2022 Blues Music Awards in Memphis. Kenny Neal is The Blues. He has lived it and he is the torch bearer of it.